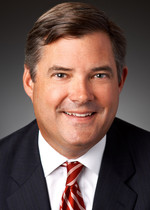 Thomas M. Tepe, Jr.
Partner
Tom Tepe is a Partner in Keating Muething & Klekamp's Real Estate Group. He has been successful in obtaining real estate tax reductions throughout Ohio and in several other states. He has obtained significant reductions for property owners of major office complexes, downtown office buildings, retail/commercial developments, large apartment complexes, and industrial/distribution facilities.
Tom's representation of real estate developers covers all facets of a property's development. He has successfully litigated zoning cases throughout Ohio, as well as Kentucky and Indiana on behalf of local and national developers. He has also successfully represented land developers in opposing zoning referenda before area Boards of Election.
Additionally, Tom has successfully represented property owners in numerous eminent domain cases. In one recent eminent domain case, he obtained an award (including statutory interest) for his client, the owner of commercial property containing significant deposits of sand and gravel, from a Lawrence County, Ohio jury in excess of $4 million above the state's initial offer of compensation. In another case, Tom negotiated a settlement for a property owner prior to the lawsuit being filed in excess of $500,000 above the state's initial offer of compensation.
He served as an intern to State Senator Richard H. Finan, Senate President, while an undergraduate at The Ohio State University.
Representative Matters
Successfully obtained a $39 million reduction in value on an office complex in Hamilton County resulting in an estimated tax refund of $708,500
Successfully represented property owner in a real estate tax appeal reducing the property's value from $33 million to $9.7 million
Successfully reduced the value of a shopping mall located in the Kenwood market from $93.3 million to $70.5 million, resulting in a tax refund of approximately $320,000
Successfully reduced the value of a Downtown Cincinnati Class A office building from $42 million to $28 million; and then from $28 million to $19 million
Successfully reduced the value of Lifestyle Shopping Center in Warren County from $107 million to $86 million, resulting in an approximate tax savings of $440,000
Significantly reduced the value of a former auto plant in Montgomery County from $21.3 million to $4.8 million, producing a tax savings of $430,300
Handled a portfolio of warehouse buildings for an institutional investor in Cuyahoga, Franklin, Hamilton, and Butler Counties
Successfully reduced the value of a Columbus, Ohio full service hotel from $22 million to $10 million
Handled a portfolio of bank branch locations resulting in significant value reductions throughout Southwest Ohio
Successfully reduced the aggregate value of two Montgomery County apartment complexes from $29.9 million to $22 million, producing an aggregate refund of approximately $175,000
Successfully reduced the value of a Downtown Cincinnati office complex from approximately $12.2 million to $4.7 million, resulting in a tax savings of approximately $211,000
Successfully reduced the value of a suburban shopping center from $15.3 million to $6.7 million, resulting in a tax savings of approximately $211,000
Awards & Recognitions
Leadership Cincinnati, Cincinnati USA Regional Chamber, Class XLI
Listed in The Best Lawyers in America, 2011-2019
Named the "Cincinnati Best Lawyers' Land Use and Zoning Law Lawyer of the Year," 2018
Named the "Cincinnati Best Lawyers' Litigation — Land Use and Zoning Law Lawyer of the Year," 2016
Named the "Cincinnati Best Lawyers' Real Estate Litigation Lawyer of the Year," 2013
Named to Ohio Super Lawyers, 2015-2018
Named to Ohio Rising Stars, 2005-2011
Named to Cincy Leading Lawyers, 2018
News
Professional & Community Involvement
Village of Terrace Park, Ohio, Mayor
Village of Terrace Park, Ohio, Council Member (2010-2015)
Cincinnati Bar Association
Ohio State Bar Association
NAIOP, Member
Keating Muething & Klekamp PLL
One East Fourth Street
Suite 1400
Cincinnati OH 45202
TEL: (513) 639-3947
FAX: (513) 579-6457

Practice Areas
Bar & Court Admissions
Ohio
Kentucky
U.S. District Court, Southern District of Ohio
U.S. Court of Appeals, Sixth Circuit
U.S. District Court, Northern District of Ohio
Education
J.D., Michigan State University College of Law, 1999; magna cum laude, King Fellowship Award
B.A., The Ohio State University, 1995