Benefits Monthly Minute
Insufficient COBRA Notice Haunts Employer | 2023 Benefit Plan Limits | Plan Provisions in Effect at Time of Benefit Denial Control
The October Monthly Minute highlights a class action that hinges on deficient COBRA notices, the new 2023 benefit plan limits, and a case that held the benefit plan provisions in effect at the time of a claim denial control.
Insufficient COBRA Notice Haunts Employer
This month, a Florida district court gave the green light to Thompson, III v. Ryder System, Inc. to move forward as a class action, based on allegedly defective COBRA notices. In the case, plaintiff alleged the employer's COBRA notice was deficient, causing him to misunderstand the notice and fail to elect COBRA resulting in a lack of coverage for his ensuing medical bills. The court found plaintiff plausibly alleged a violation of the requirement to provide an address to submit COBRA payment and a violation of the requirement to provide a description of the COBRA election procedures. Notably, the court took issue with the notice insofar as it included a catch-all HR phone number (operated by a third party) and an unhelpful website. Despite the plaintiff-friendly outcome, the court did reject plaintiff's objection to the notice's failure to identify the plan administrator, instead relying on case law to support the position that reference to the COBRA administrator, as the party responsible for COBRA administration, is sufficient.
KMK Comment: While the administrative convenience of directing qualified beneficiaries to a human resources contact for additional COBRA information is tempting, it does not obviate the need to include all of the regulatory COBRA content in the COBRA notice. COBRA notices must expressly include all required information and it is important to have your COBRA notices reviewed by legal counsel for compliance.
2023 Benefit Plan Limits
The numbers are in! See below for select 2023 benefit plan limits: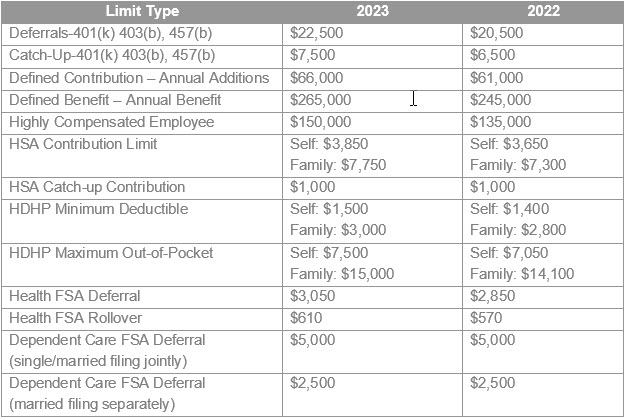 Plan Provisions in Effect at Time of Benefit Denial Control
In a recent 2022 district court case, Foote v. Beverly Hills Hotel, a California court grappled with the question of what plan document controls when medical bills brought about by an accident span over several years. In the case, the plaintiff had incurred over $4 million dollars in medical bills after a scooter accident. At the time of the accident, the plan then in-effect included an "illegal acts" clause which served as the basis to deny coverage as plaintiff was unlicensed when she had the accident. A later-adopted plan document, however, in effect when the claims were denied, did not include the "illegal acts" exclusion. Relying on Ninth Circuit precedent for the propositions that an ERISA cause of action arises when benefits are denied and that rights to benefits under an ERISA welfare plan do not vest unless and until the employer says they do, the court sided with the plaintiff and applied the version of the plan which omitted the "illegal acts" exclusion. In the court's view, where a plan may be unilaterally amended and benefits are not vested, once the later plan was in effect, neither party could rely on the earlier version.
KMK Comment: Whether this controversial decision will be applied outside of the Ninth Circuit remains to be seen. However, it serves as a cautionary tale to plan administrators to be mindful when updating plan documents and to confirm that all exclusionary clauses are appropriately included to ensure accuracy in benefit determinations.
The KMK Law Employee Benefits & Executive Compensation Group is available to assist with these and other issues.
Lisa Wintersheimer Michel
513.579.6462
lmichel@kmklaw.com
John F. Meisenhelder
513.579.6914
jmeisenhelder@kmklaw.com
Antoinette L. Schindel
513.579.6473
aschindel@kmklaw.com
Kelly E. MacDonald
513.579.6409
kmacdonald@kmklaw.com
Rachel M. Pappenfus
513.579.6492
rpappenfus@kmklaw.com
---
KMK Employee Benefits and Executive Compensation email updates are intended to bring attention to benefits and executive compensation issues and developments in the law and are not intended as legal advice for any particular client or any particular situation. Please consult with counsel of your choice regarding any specific questions you may have.

Professionals