KMK Law Cybersecurity & Privacy Seminar
Whether you're a business owner, senior executive, or have a role in Information Governance, Compliance/Risk Management, Human Resources, Legal or Information Technology, protecting your organization and its employee and customer data against data breaches and cyberattacks is a top priority for organizations of all sizes. You need to understand the protection and risk mitigation options available to you in order to formulate and/or update a cybersecurity/privacy plan for your organization.
Please join KMK's Cybersecurity & Privacy Team on April 27th for a lunch seminar to discuss best practices for protecting your organization against data breaches and cyber attacks as well as the recent developments in litigation and federal and state regulations. The event is free and we encourage you to bring your team members charged with cybersecurity issues; registration is required for all attendees. Seats are limited, so please register early.
Agenda
11:30 a.m. – 12:00 p.m.

Registration & Lunch

12:00 p.m. – 12:15 p.m.

Introduction
Joseph M. Callow, Jr., Litigation Partner

12:15 p.m. – 12:30 p.m.

Prevention: The role that Information Governance and Knowledge Management play in protecting your data.
Stephanie M. Maw, E-Discovery / Litigation Support Director

12:30 p.m. – 12:45 p.m.

Prevention: Human Resources best practices to reduce the risk of a data breach or cyber attack.
Paul D. Dorger, Labor & Employment Partner

12:45 p.m. – 1:00 p.m.

Protection: A discussion of the appropriate policies, practices and procedures to employ in order to comply with state and federal law related to data privacy and data collection.
Robert C. Lesan, III, Business Representation & Transactions Partner
Mark E. Musekamp, Business Representation & Transactions Associate

1:00 p.m. – 1:15 p.m.

Protection: HIPAA Security Rule Compliance – protecting individually identifiable health information while permitting appropriate access to promote the use of electronic health information.
James W. (Jay) Thweatt, III, Employee Benefits & Executive Compensation Partner

1:15 p.m. – 1:30 p.m.

Risk Mitigation: Understanding the key role that Cyber Insurance can play in mitigating losses in the event of a data breach.
Pamela Morgan Hodge, Insurance Coverage Partner

1:30 p.m. – 1:45 p.m.

Remediation: Attacks have penetrated even the best protections and preventative measures; learn what you need to know in case of a breach or attack.
Drew M. Hicks, Litigation Partner
Jacob D. Rhode, Litigation Associate
Meaghan K. FitzGerald, Litigation Associate

1:45 p.m.

Q&A / Wrap Up / CLE Details
Joseph M. Callow, Jr., Litigation Partner
Continuing Legal Education Credit
OH, KY, IN: Seminar is pending approval for 1.75 hours.
Other States: If you need credit in another state, please note that on your registration.
Registration
Registration is now closed. Thank you.
Inquiries & Special Needs
Please contact Katie Lane with any questions or special needs with which we can assist you. Katie may be reached at (513) 639-3926 or klane@kmklaw.com.
Directions & Parking
Due to the strong response, we have moved the venue to the Cincinnati USA Regional Chamber in the Learning Center located next door to KMK's offices at 3 East Fourth Street.
For directions to the Cincinnati USA Regional Chamber please click here.
Convenient parking may be found at Olympic Auto Park, but we cannot guarantee parking availability as space is limited. Olympic Parking is located on Vine Street, between East Third Street and East Fourth Street. Walk north on Vine Street. Turn right on Fourth Street. The entrance is just beyond PNC Bank.
NEW LOCATION:
Cincinnati USA Regional Chamber
Learning Center
3 East Fourth Street
Cincinnati, OH 45202
To learn more about KMK's Cybersecurity & Privacy Team, please click the image below.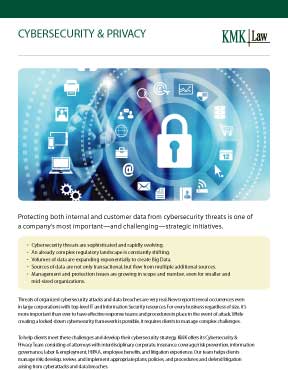 Professionals
Related Practices