Riverbend Commercial Title Agency
Riverbend Commercial Title Agency Limited Partnership is a wholly-owned subsidiary of Keating Muething & Klekamp PLL. Riverbend clients include: developers, builders, commercial lenders, buyers, sellers, lessees, as well as referrals from commercial brokers and attorneys. As an agent of four highly-rated, nationally renowned underwritiers, Riverbend representatives meet their clients' preferences in selecting a title company.
Riverbend's mission is to provide the highest level of timely services to fulfill their clients' objectives and give them confidence while investing in commercial real estate. Riverbend's network of contacts and rapport within the industry enables them to proactively service their clients throughout the Midwest and beyond. Riverbend's collective knowledge, skill, and dedication to service enables their clients to succeed in making the best investment decisions, even when faced with complex challenges. Riverbend adds value to the transactions they manage by eliminating frustration and wasted time, and increasing efficiency and client satisfaction.
One East Fourth Street
Suite 1400
Cincinnati, Ohio 45202
Tel: 513.357.9800
Fax: 513.579.6957
www.riverbendtitle.com
Map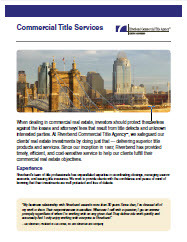 To learn more about Riverbend's commercial title services, please click here.