Have a Question?
While we would like to hear from you, sending us an e-mail will not make you a client of our firm. Before we can represent you, we must make sure that doing so will not create a conflict of interest. Moreover, sending us information before we have an attorney-client relationship could compromise confidential information. The best way for you to initiate a possible representation is to call a Keating Muething & Klekamp attorney, who can take you through our conflict of interest procedure.
Please click the "YES" button to confirm that you understand and accept the foregoing statement and wish to proceed.
If you would like to contact a specific KMK attorney directly, you may go to the ATTORNEYS section to access attorney contact information.
If you would like to contact a member of KMK's management or administrative staff, you may go to the LEADERSHIP section (located within the KMK Difference section) for a listing of our management team and administrative directors.
For queries regarding employment at KMK, please go to the CAREERS section for specific contact information.
To subscribe to legal updates and other information distributed by KMK, please use the RECEIVE UPDATES link at the bottom of this page.
To receive new blog posts to your RSS Reader, please choose the Blog Topic that is of interest to you, and click on SUBSCRIBE TO RSS.
For general issues, please use the form below to submit a question and the appropriate person will reply as soon as practical.
Thank you!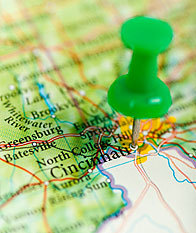 For immediate questions, please do not hesitate to call our receptionist, who is available Monday through Friday, from 7:30 a.m. until 7:30 p.m., ET, and on Saturdays from 8:00 a.m. until 1:00 p.m. ET (excluding holidays).
Phone: 513.579.6400
Fax: 513.579.6457
Address:
Keating Muething & Klekamp PLL
One East Fourth Street, Suite 1400
Cincinnati, OH 45202-3752
Attorney - Client Relationship
KMK would be pleased to discuss your legal needs. Please note that use of the Keating Muething & Klekamp PLL website does not create an attorney-client relationship between you and KMK. If KMK does not already represent you, and you send us an e-mail, your e-mail will not create an attorney-client relationship and will not necessarily be treated as privileged or confidential. Prior to sending us any confidential or sensitive information via e-mail, you should contact a KMK attorney by telephone to ensure that we would not have a conflict of interest if we were to represent you.
Please view our Disclaimer Statement and Privacy Policy located at the bottom of our website.