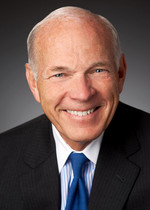 James J. McGraw, Jr.
Partner
Jim McGraw is a Corporate Partner at Keating Muething & Klekamp. In addition, he is the President and Chief Executive Officer of KMK Consulting Company, LLC. His background is centered in business development, public utilities, insurance and healthcare organizations. His clients include national and international firms in the areas of real estate, financial services, energy, manufacturing and technology. He has been actively involved in business and related client consulting for 36 years.
Jim focuses on business formation and transactions, acquisitions and divestitures, along with a variety of related strategic work for clients which include corporate growth strategies, organizational design, leadership development, capital formation, public/private partnerships, performance benchmarking, transportation infrastructure development, strategic planning and implementation of programs to attract, retain and develop business. Jim has interacted with more than 3,000 CEOs and senior executives in the course of his work and has directed capital formation initiatives for clients totaling in excess of $600 million.
Jim is also a nationally recognized consultant in the area of economic development. He has represented corporations on a regional and national basis in the area of site selection and incentives structuring and negotiations with respect to the expansion and relocation of their facilities and workforce. Jim has worked in more than 120 cities and regions across the United States, helping community and business leaders design and build some of the country's leading economic development projects and organizations. He has been instrumental in the growth of these initiatives in such markets as Baltimore, Baton Rouge, Buffalo, Charlotte, Cincinnati, Ft. Lauderdale, Ft. Worth, Honolulu, Irvine (CA), Jacksonville, Kansas City, Los Angeles, Memphis, Naples (FL), Omaha, Orlando, Phoenix, Rochester (NY), San Diego, San Francisco, Scottsdale, St. Louis, Tampa, Tucson and Washington, D.C. Previously, Jim was Regulatory Trial Counsel for the Cincinnati Gas & Electric Co. (Duke Energy), and served four years on active duty as Chief of Civil Law with the Air Force J.A.G. at Wright Patterson Air Force Base.
Awards & Recognitions
Named Top 100 Attorneys of Influence in the U.S., Business Journals, 2018
Listed in The Best Lawyers in America, Corporate Law and Economic Development, 2017-2019
Named Ohio Super Lawyer, 2004, 2005, 2007, 2008, 2013
Voices of Giving Award, Greater Cincinnati Planned Giving Council, 2014
Distinguished Alumni Award, University of Notre Dame, 2003
News
Speaking Engagements
Corporate Welfare or Corporate Leadership? How Companies Grow Thier Communities While Earning Millions in Cost Savings, ALFA International - Scottsdale Conference, March 2, 2018
Urban Redevelopment Leadership and Solutions Keynote Speech, Springfield Ohio Community Foundation Annual Dinner, October 11, 2017
Uptown Cincinnati Innovation Corridor, Cincinnati Business Courier Real Estate Power Breakfast, May 16, 2017
Cincinnati Legal Update Seminar: The Competitive World of Economic Development Incentives, December 16, 2016
Organizing Leaders to Compete for Job Growth in Southeast Indiana, Dearborn County Leadership Forum, Ivy Tech, September 18, 2015
What's Up With Texas? Why is Toyota Relocating to Irvine?, The METS Center Conference, December 5, 2014
Making Leadership Your Community's Number One Competitive Advantage, North Myrtle Beach Chamber of Commerce Leadership Retreat, September 18, 2014
2014 American Chamber of Commerce Executives Annual Conference, Community Economic Development Professionals Uniting As Best Of Class Sales Teams To Win More Deals, August 22, 2014
2014 Tulsa Future's Annual Meeting, CEO Leadership Influence In Driving Major Business Recruitment Projects And Their Creative Incentive Packages, August 22, 2014
Mentioned & Quoted
Professional & Community Involvement
International Economic Development Council
Urban Land Institute
Irish Angels
American Bar Association
Cincinnati Bar Association
Kentucky Bar Association
Ohio State Bar Association
Agenda 360, Co-Chair, Economic Competitiveness
BIO/START, Board of Directors
Brandon C. Gromada Head & Neck Cancer Foundation, Board Member
Cincinnati Regional Tourism Network, Board of Directors
Cincinnati USA Convention & Visitors Bureau, Chair, Board of Directors, Nominating Committee, Executive Committee
Cincinnati USA Partnership, Governing Board, 2004-2008
Cincinnati USA Regional Chamber, Aviation Committee
Athenaeum of Ohio, Advisory Board; Co-Chair, Estates & Trusts Committee
Cincinnati Reds Community Fund, Founding Trustee, Advisory Council
Greater Cincinnati United Way, Tocqueville Cabinet
Mercy Health Partners Foundation, Inc., Trustee, Chair, Nominating and Governance Committee, 2003-2009
Multiple Sclerosis Society, Ohio Valley Chapter, Trustee, 1994-2006; Major Gifts Committee; Dinner of Champions Co-Chair
National Advisory Board for Executive Education at the University of Notre Dame's Mendoza School of Business
GIGOT Center, National Business Plan Competition, Judge and Mentor
Notre Dame Law Association, Member
Ursuline Academy of Cincinnati, Trustee, 1991-2004
Regional Business Alliance of Southwest Florida, Inc.
St. Vincent DePaul Society, Steering Committee
Sisters of Notre Dame de Namur, Advisory Council
Mayfield Education and Research Foundation (MERF), Board Member, Development Committee Chair
DePaul Cristo Rey High School, Development Committee Chair
Downtown Cincinnati, Inc., Board of Directors
City of Cincinnati, Job Creation Committee
Mercy Health, Cincinnati Region, Board Chair, Executive Committee, Strategy Committee
Keating Muething & Klekamp PLL
One East Fourth Street
Suite 1400
Cincinnati OH 45202
TEL: (513) 579-6932
FAX: (513) 579-6457

Practice Areas
Bar & Court Admissions
Ohio
Kentucky
U.S. District Court, Southern District of Ohio
U.S. Supreme Court
U.S. Court of Military Appeals
Education
J.D., University of Akron School of Law, 1974; Editor, Law Review
B.B.A., University of Notre Dame, 1971