Our Total Team Approach
At Keating Muething & Klekamp (KMK), we view a client's legal issues as though we were the CEO or owner of the business — finding solutions for problems and developing strategies for the future. Using this entrepreneurial approach allows us to help our clients move their businesses forward and to develop recommendations that are efficient, effective, and economical, all while keeping our clients' best interests at the forefront. All of the partners and associates at KMK utilize this approach to the practice of law, which has made KMK one of the most successful law firms in Greater Cincinnati. Additional information on KMK's approach to partnering with our clients is available here.
Clients. KMK represents clients of all sizes, from small start-up companies to Fortune 100 corporations. KMK is proud to have many long-term clients; in fact, several of these relationships go back 50 years, a testament to the strong relationships we develop with clients.
Practice Areas. As the largest first-generation law firm in Greater Cincinnati, KMK offers the breadth and depth of experience to meet the varied needs of clients from all over the country, while maintaining the entrepreneurial spirit and philosophies of our founders. We handle client matters from litigation to mergers & acquisitions, and from real estate to labor & employment law — and everything in between.
Firm Values. Practical advice in the best interest of the client and time-tested business solutions have been the hallmarks of KMK since our founding in 1954. We make these commitments to our clients:
A sense of urgency. We recognize that we are in a service business and that our clients expect and deserve timeliness and responsiveness. Our firm has adopted a sense of urgency in addressing client matters which is imbedded into our culture.
Integrity. We represent clients in a skillful and honest manner, taking ownership of every action in our dealings with clients and others with unyielding integrity.
Strong work ethic. At KMK we stay ahead of the curve. We are energized to know where the economy is headed and the latest developments within the legal profession. To us, providing the best service means being confident about what we do and accurately delivering timely service with the client's goals in mind.
Location. KMK retains one location in downtown Cincinnati, a deliberate decision made to enhance our ability to pool talents and resources to better serve clients and to provide increased value to our clients by maintaining relatively low overhead costs.
One Office By Choice: We are often asked how we can compete with multi-city, multi-office law firms for sophisticated legal work in the region and around the country. The answer: quite well. Multiple offices equate to higher overhead costs, which are passed through to clients in the form of higher billing rates. At KMK, we have all of our personnel in one office allowing us to minimize overhead – which translates to lower billing rates compared to most other firms.
Rather than invest in bricks and mortar office space, KMK invests in technology – virtual offices, proprietary extranet capabilities, and technologies which make us more efficient and allow us to communicate with clients very effectively and with less paper and less wasted resources. We travel across the country and internationally whenever needed, and we maintain lower costs and bridge distances through the effective use of technology. Our clients agree that KMK provides the same or better quality service as "big city," multi-office law firms, at rates that our clients appreciate. KMK: Sophisticated Practice at Midwest Cost.
Inclusion and Diversity. KMK believes in developing and maintaining a diverse workforce. It is because of this commitment that we embrace the unique characteristics of all our lawyers and staff, which ultimately fosters individual success as well as the success of our firm. KMK is committed to recognizing the talents and job performance of all lawyers and staff, and we value the contributions that come from employees with a variety of backgrounds and perspectives. At KMK, our goal is to continue to generate and preserve a diverse work environment that provides creativity, productivity, and leadership effectiveness, and where our lawyers and staff feel enriched and empowered to provide client solutions that exceed expectations.
Strive for Excellence. KMK has received numerous accolades from publications such as Corporate Board Member magazine, and our attorneys are consistently listed in Best Lawyers in America® and Ohio Super Lawyers®. A comprehensive list of KMK's most recent recognitions is available under the Recognitions and Honors tab.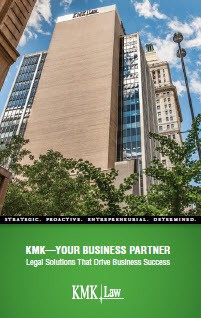 For additional information on KMK's approach to partnering with our clients please click here.
View National Litigation Matters