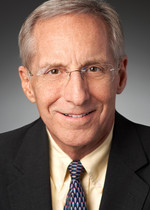 Bill Keating, Jr.
Partner
Bill Keating is a member of the firm's Business Representation and Transactions Practice Group and Private Client Services Group.
He practices in the area of corporate and business law representing publicly traded and privately held businesses and also practices in business succession planning and executive compensation. In addition, Bill serves in a general counsel capacity to small and medium size companies that do not have in-house counsel.
Bill has extensive experience in estate and tax planning and probate matters, and he has lectured on estate and business succession planning.
Awards & Recognitions
Listed in The Best Lawyers in America, 2008-2017
Named to Ohio Super Lawyers
Outstanding Disability Service Award, USA Swimming, 2016
The Women Empowerment Award, Cincinnati USA Regional Chamber, 2015
Distinguished Service Award, University of Cincinnati College of Business, 2011
FIVE STAR Wealth Manager, Cincinnati Magazine
Leadership Cincinnati, Class XIX
Friars Award, Cincinnati Friars Club, 2009
Telly Award for Pioneers of Women's Sports Video, 2009
Telly Award for Why We Swim Video, 2010
Greater Cincinnati Northern Kentucky Women's Sports Association Special Recognition Award for Contribution to Women's Sports, 2010
Jefferson Award Finalist, 2007
Big East Conference Honor for outstanding contribution to girls and women in sports
CSPN Amateur Sports Event of Year (sold out XU-UC women's basketball game)
Jimmy Nippert Award, Outstanding Graduating Student-Athlete
University of Cincinnati Athletic Hall of Fame
St. Xavier High School Athletic Hall of Fame
News
Speaking Engagements
Publications
Disabled Doesn't Mean Unable, Cincinnati.com, May 7, 2015
"No Will? No Problem! Your Spouse and Children Will Split Your Estate," The Family Business Report, 1998
"The Shareholder Agreement: Oops, I Didn't Know That!," The Family Business Report, 1997
Professional & Community Involvement
University of Cincinnati, Board of Trustees, 1981-1990
University of Cincinnati Center for Entrepreneurship, Advisory Board, 2004-present (Vice Chair)
University of Cincinnati, College of Business, Board of Corporate Advisors, 1992-2005; 2008-present (Chair, 2012-present)
Magnified Giving, Board of Trustees, Vice Chair (2012-present)
Tri-State War-Bird Museum, Board of Trustees (2013-present)
Tristate Veterans Community Alliance, Board of Trustees, Vice Chair (2014-present)
Enabling Possibilities Foundation, Inc., Board of Trustees, Chair (2015-present)
St. Ursula Academy, Board of Trustees, 1998-2004
St. Xavier High School, Board of Trustees, 1998-2004
TechSolve, Inc., Board of Directors, 1983-1985
University of Cincinnati School of Law, Board of Visitors, 1992-1997
XU-UC Celebration of the Pioneers of Women's Sports. Chaired effort to sell out XU-UC Women's Crosstown Shootout basketball games and to honor the pioneers of women's sports by awarding them varsity letters
The Harmony Project
The Commercial Club, 2005-present
Pro-Seniors, Inc., Board of Trustees, 1995-1998
"C" Club, Board of Trustees, 1979-2000, 2006-2008; President, 1981, 2006-2008
Cincinnati 2012, Board of Trustees, 1996-2001; Executive Committee
March of Dimes Birth Defects Foundation, Board of Trustees, 1996-1999
Greater Cincinnati Sports Corporation, Board of Trustees, (Chair, 1998-2001; Member, 1996-present)
Girls on the Run, Board of Trustees, 2000-2004
Ohio State Bar Association, Member, Corporate Tax and Estate Planning Sections
Cincinnati Bar Association
Ohio Land Title Association
College Swimming Officials Association, 2002-2011 (NCAA Division I Women's Swim Championship, 2005-2008; 2011)
Southwest Ohio Swimming Officials Association, 1998-2012
Keating Muething & Klekamp PLL
One East Fourth Street
Suite 1400
Cincinnati OH 45202
TEL: (513) 579-6435
FAX: (513) 579-6457

Practice Areas
Bar & Court Admissions
Ohio
U.S. District Court, Southern District of Ohio
U.S. Supreme Court
U.S. Tax Court
Education
J.D., University of Cincinnati College of Law, 1979
M.B.A., University of Cincinnati, 1976
B.B.A., University of Cincinnati, 1976